Allshare
Whether you like to mirror Samsung screen to a common TV or Samsung smart TV, you will need the following steps. The steps of using AllShare Cast is a little complicated. You have to take with care.
Step 1. On your Smart TV's remote, go to «Menu» > «Network» > «Screen Mirroring» > «Screen Mirroring».
Step 2. Enable Screen Mirroring on your Samsung phone.
Step 3. Select your Smart TV from the Available devices list.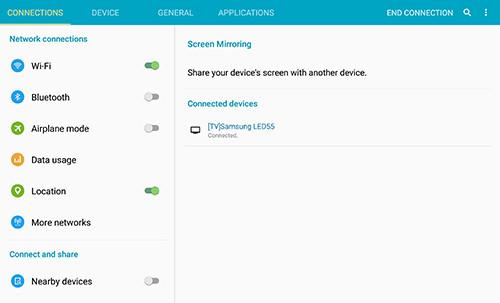 When your phone detects all the nearby devices, select AllShare Cast's dongle name and enter the PIN as the TV screen shows. Then your device will connect and share its screen automatically.
Step 1. Connect the charger to the power slot of the AlllShare Cast Wireless Hub. After several seconds, the status indicator turns red.
Step 2. Use the HDMI cable to connect the AllShare Cast Wireless hub and HDTV.
Step 3. Adjust the resource input on your HDTV to match the input port being used by the HDMI cable.
Step 4. When the status indicator begins to blink red (this may take up to 30 seconds), press the «Reset» button. The status indicator should now appear blue.
Step 5. Select the AllShare Cast Wireless Hub from the AVAILABLE DEVICES list. Enter the PIN as the TV screen shows.
Now AllShare Cast is available to be your use.
3. How to mirror Samsung contents to non-Samsung TV
AllShare Cast service is limited to Samsung brand only. If you want to mirror your Samsung phone/tablet to other TV like Apple TV, Sony TV, etc., you may need other methods.
Personally speaking, I prefer the Airplay (which is called Screen Mirroring after iOS 10) function rather than AllShare Cast, because it's more compatible. Almost any smart TV that can be connected to Wifi can use it. So if you have a Samsung phone/tablet and want to mirror the videos/photos to a smart TV that's not Samsung, I recommend you transfer your content from Samsung to iPhone and mirror the iPhone content to your TV. If you don't know how to do that, please read on.
Step 2. After transferring contents from Samsung to iPhone, now come to your iPhone. I take iPhone X as example, swipe to the center from the right top corner of the screen to open Control Center. Enable Screen Mirroring. Then your iPhone will look for your smart TV. Almost forget, make sure your iPhone and your smart TV are connected to the same Wifi.
Step 3. After detecting the TV, tap it on your iPhone, and your operation on your iPhone will be mirrored to the TV. Open any file and enjoy it on your TV.
Tip: Screen Mirroring menu location may vary. Please refer to your TV's manual or simulator if the above directions do not match.
What do you think of this post?
Excellent
Rating: 4.8 / 5 (based on 198 votes)
October 25, 2018 10:15 / Updated by Iris Walker to Samsung, Android Recovery